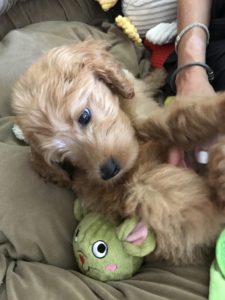 "We have a cancer-sniffing dog coming to the fire station next week", "Glen" told me at his latest office visit.  We were lucky enough to detect his prostate cancer early at a prior physical. Glen is confident in my care, but he is unsure what to expect from these cancer-sniffing dogs. He has been told that these highly trained animals can detect cancer "odors" with a few sniffs. That is so interesting!
 I had to investigate, so here you go:
Specially selected and trained dogs certainly can sniff out cancer in some patients. An article attributes talent and success lies within the personality of particular dogs and their owners. According to  the Journal of Breath Research March 2017 (related article 2013). In other words (as you would suspect), there is some unpredictable results. The cancer-detecting  sensitivity rates in dogs may be as high as 78.6% . This is really good, however, this also means that one in four tests are false negative. Therefore, there may be false reassurances that someone does not have cancer when indeed they do.  We could all argue that any test is better than none and early detection can be life-saving in so many cancers.
Why can't technology keep up? Here is your answer:
Early detection of colon, breast, lung and ovarian cancer are particularly important when it comes to successful eradication of disease and survival. Fast forward to the latest information on a new bloods DNA test that can detect early (Stage I) cancers.
The test found early stages of colon cancer 71% of the time, breast and lung cancer 59% of the of time and ovarian cancer 68% of the time.  Pretty darn good. Not yet FDA-approved, I suspect we may hear soon when these tests will be available.
As a clinician, I preface my gynecologic exams with the caveat that "the pelvic exam is not a good screening test for ovarian cancer…"; in fact, fewer than 1 in 5 ovarian cancers are caught early enough to ensure survival. With a five-year survival at 40% or less by time of detection, the outlook is rather gloomy. In fact, a dog-cancer sniffer may perform better than my physical exam for early ovarian cancer detection. With a high rate of false negatives however, before I bring these super hounds into the office, I may choose to wait on these latest DNA tests.
**False negatives give you a bunch of people who actually have cancer, but are told they don't because the screening test was negative. False positives give you people who don't have cancer, but are told they might, and undergo many more tests only to determine that they were fine all along. Chasing a false positive can be frustrating, expensive, and psychologically stressful for a patient.