As we all fight to both protect ourselves and reduce transmission of COVID-19, many have been caught off-guard by painful side-effects of prolonged mask-wearing. The Hopkins School of Medicine terms the use "maskne". While this condition is not always related to acne, skin inflammation as a result of mask use is becoming increasingly common.
After receiving a few phone messages regarding her skin issues, a medical student sent me a "selfie" picture thru the portal which was quite alarming. Given the usual beautiful texture of her skin, it appeared that she had developed severe inflammation around the nose with inflamed bumps around the mouth and chin.
Her findings were consistent with perioral dermatitis and urgent intervention was necessary.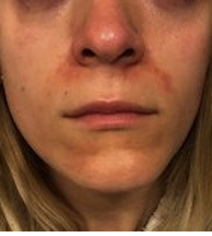 There are several skin conditions that are made worse by mask-wearing. Perioral dermatitis is a type of acne rosacea. In addition, acne vulgaris (common "acne"), eczema (atopic dermatitis), and simple sensitivities or allergies to mask product.
Treatment considerations when working outside patient care communities include temporarily substituting surgical masks for soft cotton products such as t-shirt materials or even wearing these under your surgical mask for greater comfort. In addition, a topical Vaseline or Cerave emollient or even a diaper rash cream (zinc oxide) may offer a physical barrier of protection (Hopkinsmedicine.org). In addition, it is highly important to wash any re-usable mask daily and avoid the use of harsh chemicals in both your skin and material cleaning products.
If these suggestions do not help, or your skin condition worsens, then contact your medical provider. Oral antibiotics or prescription creams may be needed to lessen the irritation. Avoid topical steroids unless under the close care of your medical provider. Depending upon the final diagnosis, steroids may worsen or perpetuate the underlying condition.
Most of all (though it may hurt), keep smiling under that mask! While face-masks will likely become a routine commitment for future disease outbreaks, make time for "a breather" and remove the mask in a secure environment. Let yourself air-out, I promise you will feel better!
Jane Sadler MD FAAFP