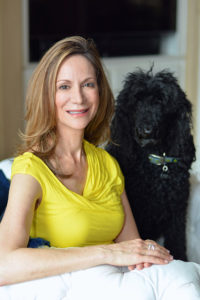 Alum and clinical assistant professor serves as Dallas Morning News health blogger
Dr Jane used to make fun of people who had poodles and practiced yoga. She currently has 2 standard poodles and loves her yoga!
Since 2012, Texas A&M Health Science Center College of Medicine alum and clinical assistant professor, Jane Sadler, M.D., has been writing for the Dallas Morning News. She continues to serve as their expert medical health blogger while continuing local TV station appearance for breaking medical news, serving as faculty for College of Medicine and practicing medicine in Dallas/Fort Worth.
Sadler was raised in Houston, Texas and completed college at Texas A&M University, studying exercise technology. Two days after completing her courses and graduating, she began medical school at Texas A&M College of Medicine. After a year's internship in obstetrics and gynecology, she pursued her love of family practice at the Waco McLennan County Family Practice Residency and now enjoys serving a large pediatric and adolescent patient population at her practice in Garland, Texas.
https://signaturemedicinetexas.com/bsw-signature-medicine-north-garland/
Sadler is a regularly-featured expert in The Dallas Morning News as their medical blogger in addition to several well-known national magazines including Cosmopolitan, Teen Magazine, Glamour, Redbook, and Shape Magazine to name a few. She has been quoted on Yahoo! and Forbes Information sites in addition to many others. She appears regularly in the Dallas/Fort Worth television and radio markets as an expert on women's health. Sadler has a passion for healthy lifestyles and is committed to arming women with the knowledge to more positively affect their quality of life.
You will hear Dr. Sadler say, "Medicine is in my blood.". Her father was the first endocrinologist at MD Anderson Hospital in Houston where he served as head of the department for 25 years, Sadler's mother was an exceptionally busy family doctor in Houston who also served as clinical faculty for Baylor College of Medicine. Growing up in a two physician household inspired interesting dinner-time discussions which propelled several siblings towards medicine. Sadler's brother is a practicing family doctor in Austin and her sister is a cardiologist in Plano, Texas. In addition, she has two sisters who practice law in Houston. Sadler is a clinical assistant professor for the Texas A&M College of Medicine. She also serves on the Health Texas Compliance Committee and is a member of the Baylor Garland Medical Center Board of Trustees.
Sadler is a wife, the mother of two young children and an active member of her church and community. She serves on the medical emergency response team for WaterMark Church in Dallas and freely offers her medical services for the Hope Clinic and Project Access. She and her son are involved in several philanthropy projects serving the Dallas area as members of the Young Men's Service League Lone Star Chapter. Sadler commonly quotes Proverbs 17:22: A joyful heart is good medicine, but a broken spirit dries up the bones. Our love for the profession can be contagious to both patients and staff. It is important for us to enjoy what we do and whom we serve. We should bring hope and happiness to work every day.